Jetzt ist die Zeit, um Israel zu besuchen!
In dem Moment, wenn Sie in Tel-Aviv aus dem Flugzeug steigen, können Sie etwas Vertrautes und zugleich etwas Befremdliches an diesem Land namens Israel spüren. Schon bald werden Sie einige der antiken Orte der Bibel sehen. Orte, von denen Sie vielleicht schon als Kind gehört haben, heißen Sie im Heiligen Land Israel willkommen.
Seit mehr als 43 Jahren, sind wir die einzigen HLT-Reiseleiter mit einer Lizenz in Israel!
Daniel Rona ist Ihr Deutsch sprechender HLT-Reiseleiter. Es ist eine wenig bekannte Tatsache, dass das Gesetz in Israel verlangt, einen autorisierten, lizensierten Reiseleiter auf jeder Tour dabei zu haben. Sein einmaliger Hintergrund erlaubt es Bruder Rona, den Geist des Heiligen Landes auf eine bemerkenswerte Weise zu teilen – ein deutschstämmiger, amerikanischer Israeli, ein Jude und ein Mormone. Bruder Ronas Wissen um das Evangelium wird Ihnen ein unvergleichliches Erlebnis im Heiligen Land bescheren.
Daniel Rona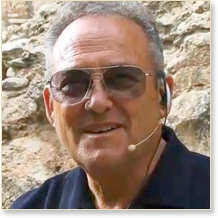 Daniel & Steven: I can't believe how powerful the spirit has been with you. You can just feel it in the sacred places we went to.
Oh, another thought, you are thinking of bringing non-LDS friends...
You know, we talk "Mormon," because it fills such a need for you, however, many non-LDS friends who toured Israel with Steven and Daniel have said, "We were surprised, you didn't attempt to Mormonize us!" How pleasing it is for your Catholic friends to return home as better Catholics, your Baptist friends to return as better Baptists. Even the late Maurice Abravanel, conductor of the Utah Symphony, and the late Eugene Jelesnik, favored Utah entertainer, Jewish, who toured with Daniel Rona, each said, "I'm going home as a better Jew."