"Would love to do it again. We learned so much!!! I can't say enough good stuff."
Dax McQuivey (Oakton, VA)
Experience the best of Egypt in the shortest time.
Your blink into the past will be forever highlighted by experiencing both Upper and Lower Egypt. A short flight to Luxor, and crossing the Nile, brings you to ancient Thebes, burial ground of the great Pharaohs. The nearby Valley of The Kings with Tutankhamen's Tomb, reveal an extraordinary underground complex and breathtaking paintings.
For Your Daily Itinerary In Egypt Select Tabs Below
Included in the WONDERS of EGYPT Program
Assisted Arrival
Arrival Transfer to Cairo Hotel
4 Nights Superior Comfort Level (5-star hotels) in Cairo (1 night less if combining with MAGNIFICENT PETRA)
Breakfast & Dinner Daily with Hotel Nights
2 Full Days Touring Cairo: Pyramids, Sphinx, Egyptian Museum (with the King Tut Display) & More
1 Full Day Touring: Luxor/Karnak Temples & the Valley of the Kings
3 Lunches on Full Days Touring
Departure Transfers
Egypt Domestic Air Flights (up to $249)
Air Between Egypt & Jordan (up to $249)
Assisted Arrival in Amman & Transfer to a Jordan River Crossing
Your Responsibility: Air to/from Programs, Visas, Border/Airport/etc. Taxes & Fees, Drinks, Room Services, and Obligatory Gratuities (Hotel Porterage, Drivers, Guides, & Touring/Hotel Staff)
Resources For Your Tour In Egypt
Egypt Travel Resources
Please use the links below as helpful resources for your journey through the Nile. Egypt welcomes you with peace to the Holy Lands: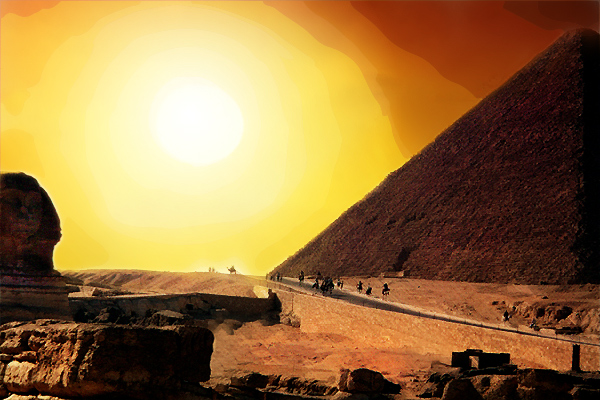 EXPERIENCE THE WONDERS OF EGYPT
The wonder of two of Egypt's finest temples, Luxor and Karnak may just take your breath away as you recognize familiar signs and symbols of temple worship. An evening flight returns you to Cairo. Experiencing Cairo includes highlights of the Islamic religion in the ancient mosques. The bustle of nearly 14-million people is an enthralling mix of old and new.





In the Bazaar you can practice the ancient art of bargaining. Enjoy the treasures of the Egyptian Museum and the fabulous King Tut Tomb Exhibition, some of the oldest pyramids, including Cheops, one of the seven wonders of the world. Coming face-to-face with the Sphinx, who has been staring into the desert for five-thousand years, is like stepping into a time-travel machine.