"We loved everything about the trip!"
Brad & Vicki Jackman (Orem, UT)
Discover the Red-Rose City "half as old as time!"
Now, you will be thrilled with the spectacular red rock carvings of Petra, made famous through the blockbuster movie, "Indiana Jones and the Last Crusade." Several movie scenes depict the 250-foot high narrow canyon sides with spectacular natural colored layers of sediment.
For Your Daily Itinerary In Petra Select Tabs Below
Included in the MAGNIFICENT PETRA Program
Assisted Arrival
Arrival Transfer to Amman Hotel
2 Nights Superior Comfort Level (local 5-star hotels) in Amman
Breakfast & Dinner Daily with Hotel Nights
Full Day Petra (including transportation, English speaking guide, entrance fees & horse ride)
Lunch on Petra Full Day Touring
Departure Transfer
Your Responsibility: Air to/from Programs, Visas, Border/Airport/etc. Taxes & Fees, Drinks, Room Services, and Obligatory Gratuities (Hotel Porterage, Drivers, Guides, & Touring/Hotel Staff)
Resources For Your Tour In Petra
Petra Travel Resources
Please use the links below as helpful resources for your journey in Petra. Jordan welcomes you with peace to the Holy Lands: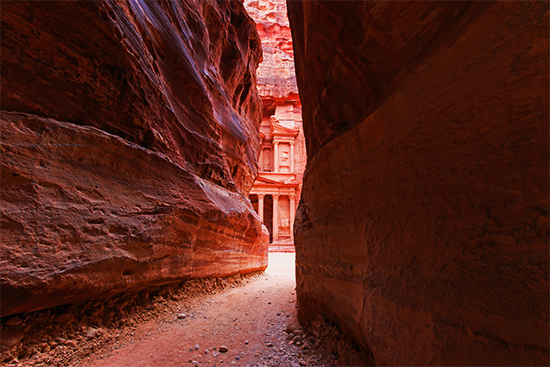 PETRA: WORLD HERITAGE SITE
The lively red, pink and white colored sandstone walls draw you in to the stunning façade of a once royal tomb, known by the Bedouin as "Al Kazneh" or today, as the "Treasury." Nearby, dozens of other tombs and carved artifacts add to the wonder of this "World Heritage" site. The site, once a thriving city, was established by Nabateans more than 300 B.C. Recent archaeological projects have uncovered remains of innovative networks of water collection, efficient water storage, distribution conduits, and irrigation systems.





Petra became part of the Roman Empire connecting Jordan and Israel with the Northern Arabian Peninsula. Archaeologists suggest that up to 85 percent of its infrastructure is still underground. In December 1993, numerous Greek language scrolls of the Byzantine period were discovered in excavations near the Winged Lion Temple in Petra. The American Center of Oriental Research in Amman, Jordan is now researching the scrolls and artifacts to reveal life in Petra before its importance in international trade was interrupted by earthquakes and changes in trade routes. Petra reached its height by the close of Byzantine rule, around 700 A.D.