Jordan Travel Information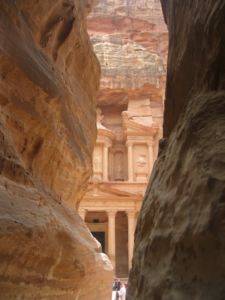 Although Jordan was named Trans-Jordan in 1946 and subsequently became known as Jordan, the area anciently, as well as today, contains the Mountains of Moab, located east of the Dead Sea. The country borders Israel on the west and shares borders with Syria to the north, Iraq to the east, and Saudi Arabia to the east and south. The land of Jordan and its people have been molded by centuries of passing civilizations. It has always been at a cross-roads between east and west, and its centrality has given it strategic and economic importance, making it a vital trading and communication link between countries, people and continents. Home to one of the wonders of the world, Petra.
The modern country of Jordan is small and can be crossed by car in approximately four hours. However, its diverse terrain and landscape impart a feeling of it being larger than it actually is. Although the national trend is towards urbanization, Jordanians retain a strong cultural identity based on village and rural life.
The majority of the population (96%) is Sunni Muslim. About four percent are Christians. Click here for Israel Jordan border crossing information.
GENERAL INFORMATION
Electrical
Current:
220 AC. 50 cycles. Wall plugs are the 3 pin or 2 pin European type. American appliances will need adapted plug and transformer.
Language:
The official language of Jordan is Arabic, but English is common with those involved in the tourist industry.
Currency:
The Jordanian dinar is divided in 1,000 fils. For the last five years, the value of the dinar has been stable at a rate of exchange of 1 JD = $1.40 Major credit cards are accepted in most hotels, restaurants and in many shops.
Time:
Jordan Standard Time is nine hours ahead of Mountain Standard Time and seven hours ahead of Eastern Standard Time.
Documents:
Passports are required for international travel. A visa is also required in Jordan. Visas are available when you enter the country at the airport or at the Arave or Sheik Hussein crossings with Israel. A visa must be obtained from the Jordanian Services for crossing the Allenby Bridge. The visa and border crossing fees total between $50 and $75, depending on the currency exchange rate for that day.
Tips:
Tips and gratuities in Jordan are not included in your tour program. Either the guide or escort will request a gratuity of around $10 per person for your one-day Petra tour which they will distribute to the guide and driver.
Health
Regulations:
We strongly recommend that you drink only bottled water which is available in most of the sites you will visit. No shots are required.
GEOGRAPHY & TEMPERATURES
Jordan can be divided into three regions, each with a distinct climate.
| | |
| --- | --- |
| 1. | The highlands comprise mountainous and hilly regions that run through Jordan from north to south. The highlands are by no means uniform. Their altitude varies from 1969 to 5249 feet above sea level. It is in the highlands that we find the major remains of ancient civilizations in the cities of Jerash, Petra, Philadelphia (Amman), Madaba, Badara and Karak. The highlands are the most densely populated areas today, encompassing most of the major cities of Jordan. The average temperature range from 46º in January to 77º in July. |
| 2. | West of the highlands is the Jordan Rift Valley, which also runs the entire length of Jordan. The Rift Valley plunges to over 1312 feet below sea level at the Dead Sea, becoming the lowest spot on earth. The Rift Valley encompasses the Jordan Valley, the Dead Sea, Wadi Araba and Aqaba. The Rift Valley is rich in water resources, including thermal mineral water. The valley is rich in agricultural land and is warm throughout the year. Average temperatures range from 60º in January to 90º in July. |
| 3. | The desert region in east Jordan is an extension of the Arabian Desert, and forms nearly two-thirds of the country. Not a true desert–there is low rainfall–it is rather a semi-arid, steppe-like region. This region is home to the bedou of Jordan, the traditional sheep and goat herders who provide meat for the rest of the country. There is extreme variation in the climate of the desert between day and night, and between summer and winter. Summer temperatures can exceed 104º, while winter nights can be bitterly cold and windy. |