Sheep, Shepherds And The Son Of God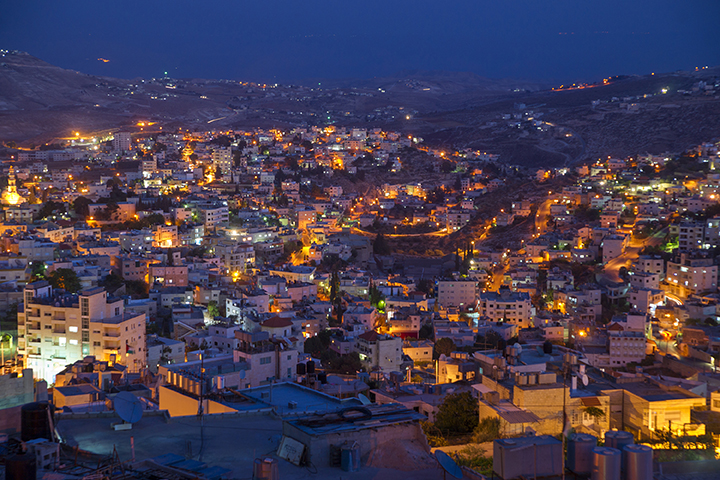 A Bethlehem Neighborhood In The Evening
We live one mile from Bethlehem. Our neighborhood is modern and clean. In our home there's always room for a guest. What we have is never too good for anyone passing by. This we decided upon since we learned about some of our ancient relatives who couldn't even find a private room to fulfill one of life's greatest blessings – the birth of their first child.
Today, many people travel to the Holy Land to look for Him in "traditional spots".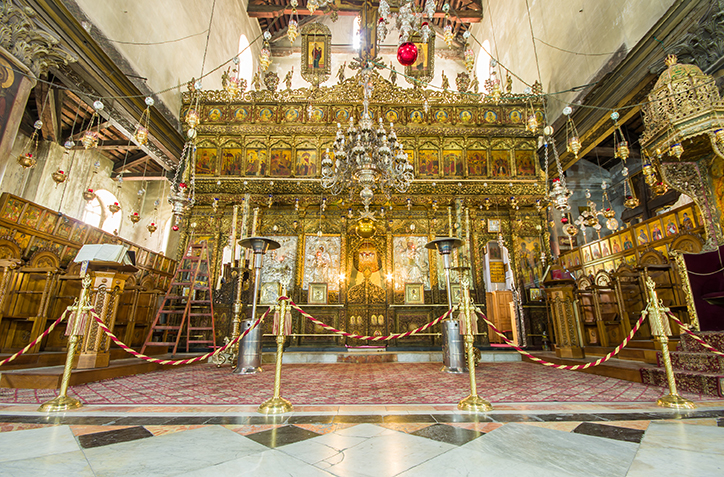 The Nativity Church In Bethlehem
THE NATIVITY CHURCH
The traditionally accepted birthplace of Jesus is in a grotto located under the Church of Nativity. This is not inconceivable, in the sense that stables were usually on the ground floor or underneath the inn rooms. The tradition, however, only begins 175 years after the birth of Jesus. Three Christian churches, Greek Orthodox, Armenian and Catholic, hold separate services here and maintain a star decorating the place of birth.
Ownership is tentative, at best. The three Churches rotate their rights in using the grotto. Each one, in turn, brings their own decorative accouterments, adornments, carpets and curtains to be used during their particular mass or service. Thereafter, they must remove all of their items, relinquishing the "temporary ownership" during their mass to the next religious group.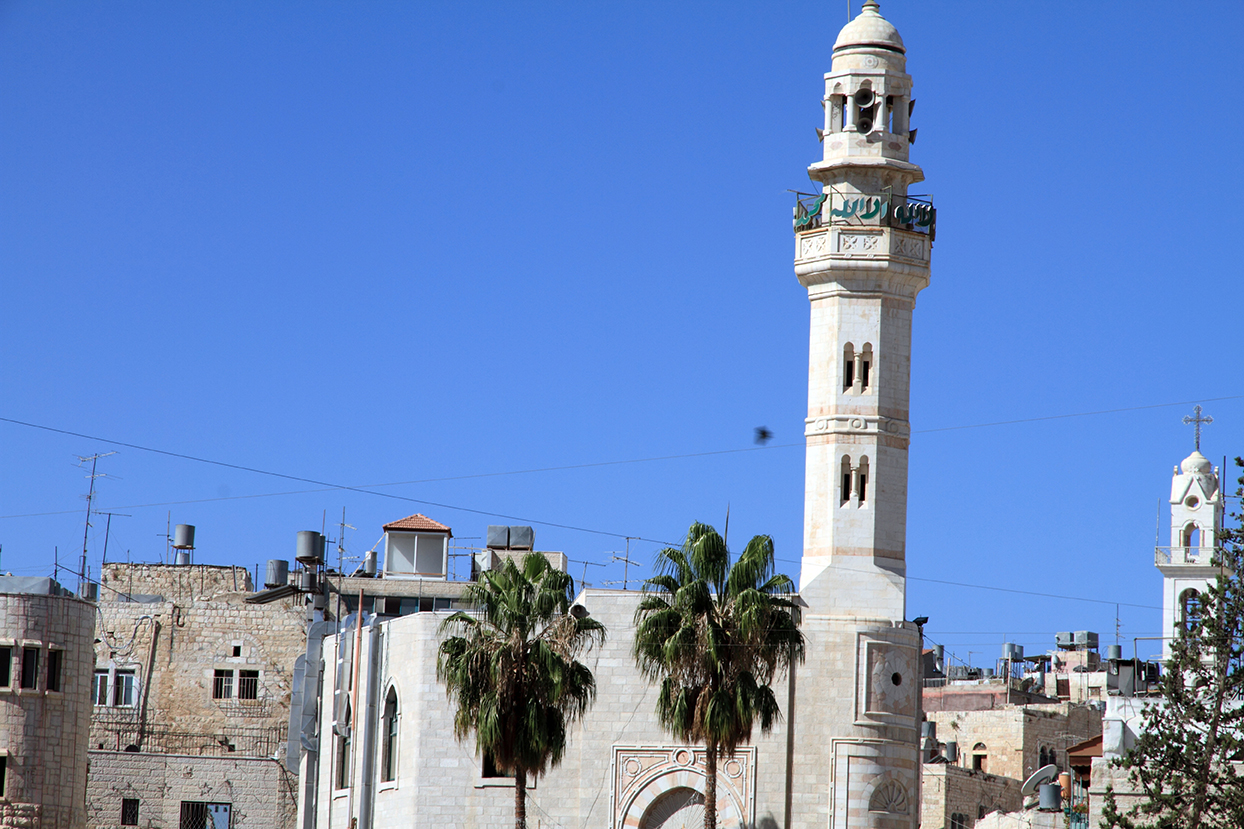 Manger Square
MANGER SQUARE
Opposite or close to every Christian church in this land is a Moslem mosque, and Bethlehem's Manger Square is no exception. Also, across the street, is the Israeli police station, souvenir shops and television antennas – a contrast to what Bethlehem must have looked like twenty centuries ago.
Our family sees Israel differently – through the ever connected branches of our family tree. The language, customs and traditions of our people reflect an eternal message, however, a message that somehow is still obscure to most of those who live here in Israel.
Everyone seems to come to Israel to see the holy places, however, the heartfelt joy of the Holy Land is in the feeling that comes from remembering the events that took place here.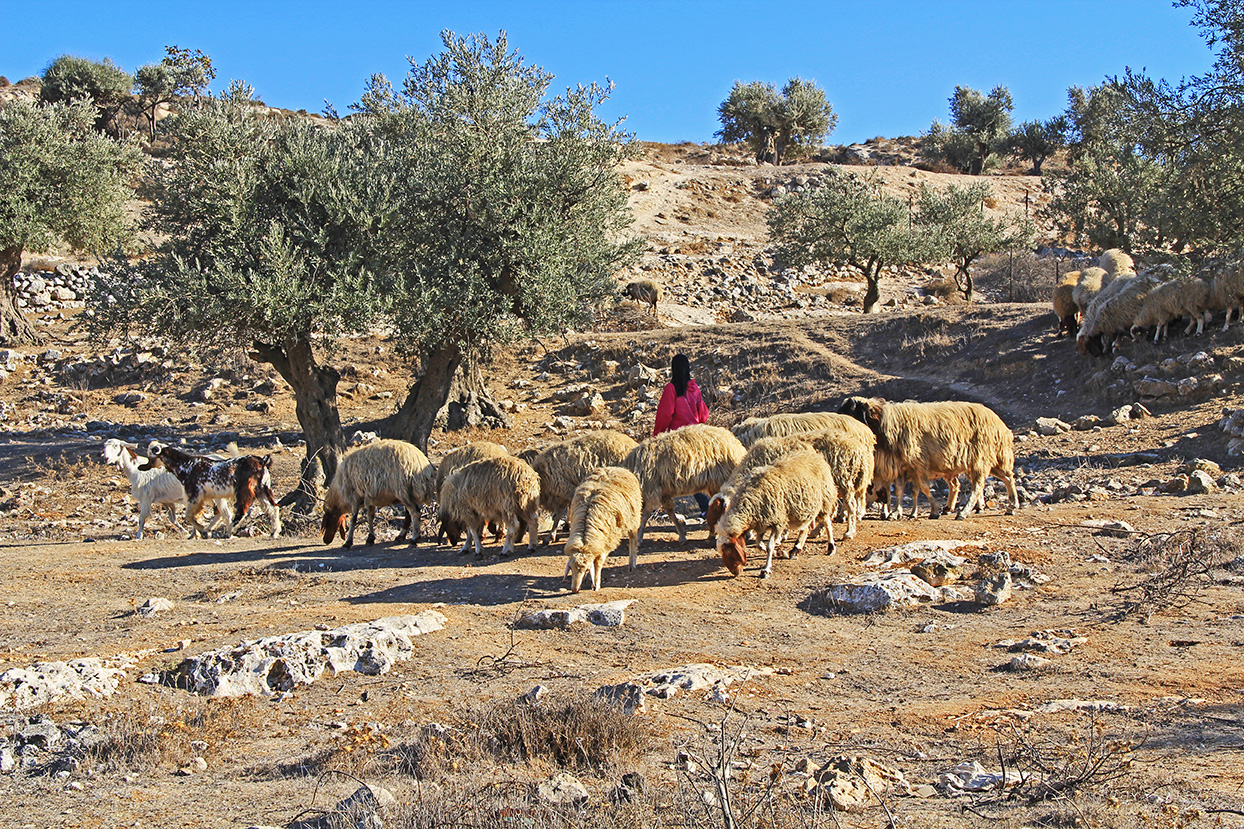 A Shepherdess Tending Her Sheep
BETHLEHEM'S ROYAL HERITAGE – RUTH AND NAOMI
Around Bethlehem are numerous hills still grazed by sheep and goats. In the spring the small fields, supported by terraces, are planted with wheat or barley. It was hills like these that had become barren when Elimelech (meaning God is my King) and his wife Naomi (meaning pleasant or blessed) and their two sons left for the greener mountains of Moab about 40-miles away across the Great Salt Lake. (It's the people living outside of Israel call it the Dead Sea).
Sadly, Elimelech died. His sons supported their mother and even married women of Moab. One was named Ruth and the other Orpah. But even sadder, the sons died, leaving three widows. Naomi wanted to return to Bethlehem, (meaning the house of bread), she heard that wheat and barley were growing again. Ruth faithfully followed her mother-in-law. "And Ruth said, Entreat me not to leave thee, [or] to return from following after thee: for whither thou goest, I will go; and where thou lodgest, I will lodge: thy people [shall be] my people, and thy God my God: Where thou diest, will I die, and there will I be buried: the LORD do so to me, and more also, [if ought] but death part thee and me."
It was the beginning of the barley harvest, spring, the season of Passover. Passover is celebrated to remember the deliverance of Israel from Egypt. Ruth gathered after the reapers; her good fortune was to come to the fields of Boaz who was a relative of Naomi's late husband. It is still the Middle East custom for the late husband's family to care for the widowed wife. "And Boaz answered and said unto her, It hath fully been showed me, all that thou hast done unto thy mother in law since the death of thine husband: and [how] thou hast left thy father and thy mother, and the land of thy nativity, and art come unto a people which thou knewest not heretofore. The LORD recompense thy work, and a full reward be given thee of the LORD God of Israel, under whose wings thou art come to trust."
Ruth married Boaz and had a son named Obed, who had a son named Jesse who tended flocks and crops in these same hills. (RUTH 1,2,3)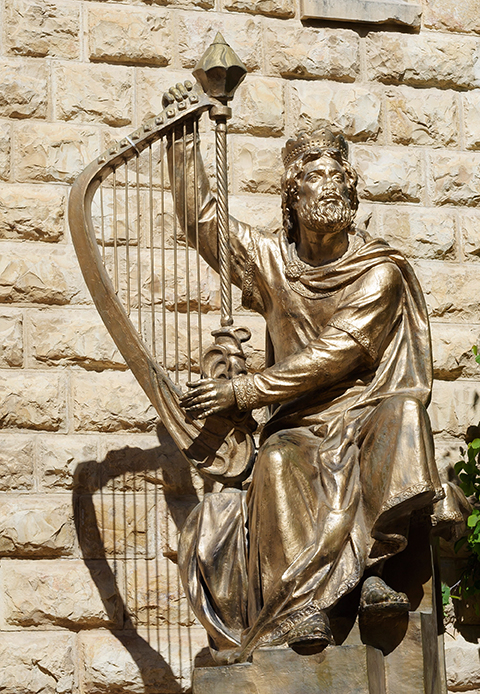 A Statue Of King David In Jerusalem
KING DAVID
Jesse's youngest son was named David. In obscurity, a boy shepherd was ordained the King of Israel, and yet he continued to be a shepherd — a good shepherd. Born at Bethlehem he was promised by God that his seed would bring the King of Kings, the Messiah — also to be known as the Good Shepherd. To this day, Israelis still sing about David, King of Israel, awaiting a new Davidic descendant. "For unto us a child is born, unto us a son is given: and the government shall be upon his shoulder: and his name shall be called Wonderful, Counsellor, The mighty God, The everlasting Father, The Prince of Peace." (ISAIAH 9:6 7)
The Saviour's Birth
THE KING OF KINGS
"And it came to pass in those days," that Joseph and his espoused wife went "…unto the city of David, which is called Bethlehem…""And behold, he shall be born of Mary, at Jerusalem which is the land of our forefathers, she being a virgin, a precious and chosen vessel, who shall be overshadowed and conceive by the power of the Holy Ghost, and bring forth a son, yea, even the Son of God." ALMA 7:10
Again it was the Passover season, spring of that year. According to the biblical calendar, Passover always occurs at the first full moon after the first day of spring. In the year 1830, the 6th of April was the first full moon after the first day of spring. It was Passover, "…being one thousand eight hundred and thirty years since the coming of our Lord and Savior Jesus Christ in the flesh…" DOCTRINES and COVENANTS 20:1 The Deliverer was born at the season celebrating the deliverance of Israel from Egypt and an expectation of even a greater deliverance to come.
The journey from Nazareth to Bethlehem had taken at least a week to ten days. They may have been "camped" at a caravan inn for some time for the scripture reads, "And so it was, that, while they were there, the days were accomplished that she should be delivered. And she brought forth her firstborn son, and wrapped him in swaddling clothes, and laid him in a manger; because there was no room for them in the inn." Nearby, shepherds watched over their flocks, and angels announced good tidings. "For unto you is born this day in the city of David a Savior, which is Christ the Lord…Ye shall find the babe wrapped in swaddling clothes, lying in a manger." (LUKE 2:1-19)
We feel that we know some of those angels. Wasn't Naomi one of them? In her life, she was bitter having lost her husband and sons. But she brought a convert daughter-in-law to Bethlehem, to become the great, great grandmother of King David, whose royal line brings our Messiah. Our Savior came from a convert's family!
Although most of the six-million inhabitants of this little land of Israel don't even know anything about Him, we do. We have as some of our neighbor friends, shepherds. Their living is not modern or clean. But they are humble and kind. They have shared their happiness when babies were born. We have mourned with them as one of their babies died. And we sing to them, on the hills of Bethlehem, songs and feelings that angels announced two thousand years ago. We can't sing "Far, Far away on Judaea's plains". The words come out as "Near, Near at hand on Judaea's hills, shepherd's of old heard the joyous trills"!
Today's shepherds may not yet understand our words, but one day they will — understand the gift of the One born in a manger. He gave life, Eternal life to all.
Remember your dream of walking in the footsteps of the Savior?

Comments
comments